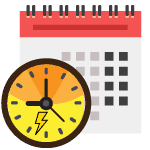 Time Of Use
(also known as Flexible or TOU) tariffs have different prices for electricity at different periods of the day. By understanding these time periods you can make decisions to shift when you use power to hours when it is cheaper to buy electricity from the grid.For those on TOU tariffs, it's important to know the hours that different peak, shoulder and off-peak rates apply.
Peak
period electricity is the most expensive and usually applies during the afternoon and early evening during the week when demand is high.
Off-peak
electricity is the cheapest and applies overnight and across weekends when demand is the lowest.
Shoulder
applies between Peak and Off-Peak times and the cost is lower than peak. To make it easy for you to know the Time Of Use periods that apply at your location, we've included a rundown of all major electricity networks across Australia for residential and small business customers. If you're looking for Time of Use rates, you can
view the latest Residential Time of Use rates here
and
view the latest Business Time of Use rates here
.</p]
Select your State/Territory:
ACT
Australian Capital Territory Electricity Time Of Use Periods
| Customer | Tariff Type | Tariff Code | Time Of Use Periods |
| --- | --- | --- | --- |
| Residential | Time Of Use | 15 | Peak = 7am-9am and 5pm-8pm, Off-Peak = 10pm-7am, Shoulder = all other times |
| Business | Time Of Use Demand | 101 | Peak = 7am-5pm weekdays, Off-Peak = 10pm-7am and all weekend, Shoulder = 5pm-10pm weekdays |
| Business | Time Of Use | 90 | Peak = 7am-5pm weekdays, Off-Peak = 10pm-7am and all weekend, Shoulder = 5pm-10pm weekdays |
| Business | Anytime Demand | 101 | Peak = 7am-5pm weekdays, Off-Peak = 10pm-7am and all weekend, Shoulder = 5pm-10pm weekdays |
NSW
NT
QLD
SA
TAS
VIC
WA