How to save money on energy
Your essential guides to reducing energy bills
Is energy efficiency worth it? What actions and investments pay off best? WATTever's essential guides cover what really works when you want to save money on energy in your home. From lighting to heating and cooling, appliances, hot water, solar and battery storage, we let you know how to get it right.

Comparing Electricity Guide

The right electricity plan can save you hundreds of dollars. Here's our essential guide to getting the best electricity deal with tips to avoid the pitfalls. From solar, concessions and discount tactics to fine print and benefit periods we'll outline the details you want to watch for.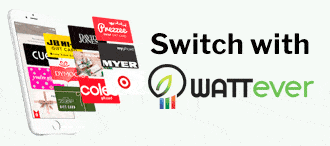 Use the Switch and Sign Up links on WATTever.com.au and sign up to a partner electricity retailer (Dodo Power & Gas, Energy Locals, Enova Energy or ReAmped Energy) using the same email address.
Receive a BONUS $50 Prezzee e-gift card via email from WATTever within 28 days from verified switch.
Send a legible photo or scan of your first bill from the new retailer to promocheck@wattever.com.au, so we can verify your completed switch.
If you withdraw from a retailer during the 'cooling off' period you will be ineligible for the gift card.
Limited time only. Offer closes 31 May 2020. WATTever reserves the right to vary or withdraw this promotional offer at any time. See terms and conditions.