WATTever is all about ensuring Australians are well informed about electricity to help them make the best choice. If having a Green, Greener or the Greenest retailer is important to you, you'll appreciate that it's not easy to work out the exact 'colour' of different electricity retailers.
That's why we're big fans of the Green Electricity Guide because it breaks through the "
greenwash
" to show which retailers are doing the right thing for the environment. The WATTever office has been eagerly awaiting release of the 2018 update to the Guide which now ranks thirty retailers. We asked nicely if we could include the Green Electricity Guide ratings in our
comprehensive comparison
and we're excited that the team has agreed.
Separating the Green from the Greenwash
It can be confusing figuring out which companies are genuinely delivering outstanding environmental performance and those that have the spin doctors on speed dial. The Green Electricity Guide 2018 answers this question. A collaboration between The Total Environment Centre and Greenpeace Australia Pacific with funding support from Energy Consumers Australia the Green Electricity Guide is an independent and thorough evaluation of retailers. Designed "to assist consumers with their choices and assist advocacy efforts to create a greener, more sustainable energy system", it's a great resource to sort out which retailers are the most environmentally focused.
The Guide itself is a long report – but the short of it is a star rating system that shows where retailers score on Green credentials.
How were retailers measured?
The Green Electricity Guide weighs up a range of factors for each retailer including;
Emissions from power stations
Investments in renewables
Offers for solar customers
Carbon offset plans,
Promotion of energy efficiency
Support for community energy, battery power and local energy trading
Transparency and sustainability reporting
The scores are combined into an overall ranking making it easy to see the relative performance of each retailer from best to worst.
Who are the best Green Electricity retailers?
The leading four retailers from the thirty ranked were awarded four and five-star ratings. They demonstrated a strong focus on renewables in their energy mix, support for solar customers and promotion of energy efficiency including demand management, storage and support for community energy.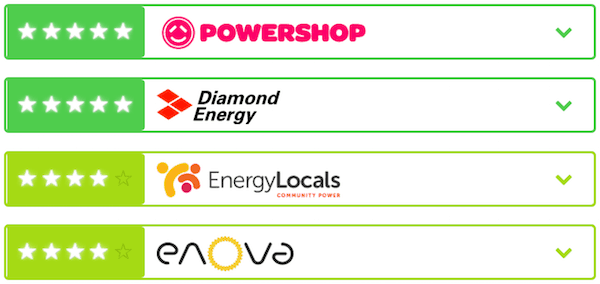 We're pleased that Energy Locals and Diamond Energy, two of our partner retailers, achieved top three rankings. (December 2019 update: Enova Community Energy has also now become a WATTever partner).
Just how green are the Big Three?
The big three, AGL, Origin and Energy Australia are Australia's largest electricity retailers. More than eight in ten Australians are customers. Because of their size and the scale of their fossil fuel generation, they are responsible for most of Australia's energy industry emissions. However, the so called "Dirty Three", also have the greatest potential to change the situation and reduce emissions through their behavior. AGL was awarded the Most Improved Retailer (up to 3.5 stars, and fifth in the rank) – due to their clear strategy to get out of coal and move toward renewable technology.
Do you pay more for a green retailer?
Run a comparison and see the difference for your home or business. A number of leading Green retailers are really price competitive. If it's important to you to know where your power comes from and what your retailer does, you're likely to find that there's a Green Retailer that offers you good value while sharing the values that matter to you.
As a customer of a 'greener' electricity retailer, you may find the falling price of generating renewable energy could run in your favour. For example, the price drop for customers that Powershop announced in March 2018 was thanks to cheap Renewable PPAs (Power Purchase Agreements) that enabled the retailer to share savings with customers.
The forecast for renewable energy is for falling costs with record lows for wind and solar. In fact, it's now cheaper to deploy green technologies than to build brand new coal power stations. So, being greener doesn't mean being more expensive.
What's it like being a customer of a Green retailer?
Choosing a Green retailer is about a lot more than 'feel good' vibes and knowing your retailer shares your values. Green retailers support customers who are interested in taking charge of their electricity and want to be more efficient with their energy use. For some, that means providing tools that help monitor and reduce energy use, the opportunity to participate in demand control programs with a financial incentive paid to customers who are willing to cut their power use at nominated times, or generous feed-in tariffs for solar owners. These retailers have a business model that isn't built on selling 'more' electricity and are focused on supporting customers who want to be more efficient.
Want to dig deeper
For more details about the Green Electricity Guide including detailed ratings head to 2018 Green Electricity Guide.
Ready to see how Green Electricity retailers compare
Shifting from a retailer entrenched in fossil fuels to a retailer that generates or buys energy from renewables, puts pressure on Australian energy companies. It shows that customers want a low emissions future and are ready to spend their money with retailers that support this. You can compare electricity offers in your area and view or filter those offers by retailer's Green Electricity Guide rating use WATTever's comprehensive electricity comparison service. You'll see the Green star rating when hovering over the information icon for each plan. Like other attributes of each plan, we colour code the Green Ratings so you can quickly see the strengths and weaknesses of each plan.