According to the latest report by the Australian Energy Market Commission (AEMC), residential electricity prices will continue to fall. Here's the power price outlook.
The AEMC forecast an average dip of $77 in annual electricity costs for households over the next three years. Those in SE Qld and Victoria are set to save even more.
The reason electricity bill trends are heading south.
The big driver in the forecast fall in electricity prices is the decline in wholesale generation costs.
Wholesale electricity costs make up around a third of a households energy bill. And wholesale prices are falling due to the abundance of cheap solar and wind energy. For instance – from July to September 2021, the electricity prices in wholesale markets was zero or lower for 16% of the time. For average gid homes across SE Qld, NSW, VIC, ACT and SA, this will contribute to a fall of $92 over the next two years.
Environmental Costs associated with renewable energy support schemes are also expected to drop by $16 out of 2024.
Network Costs which relate to the poles and wires, however is forecast to rise by $31 by 2024.
Electricity Bills Trend to 2024 - what's impacting prices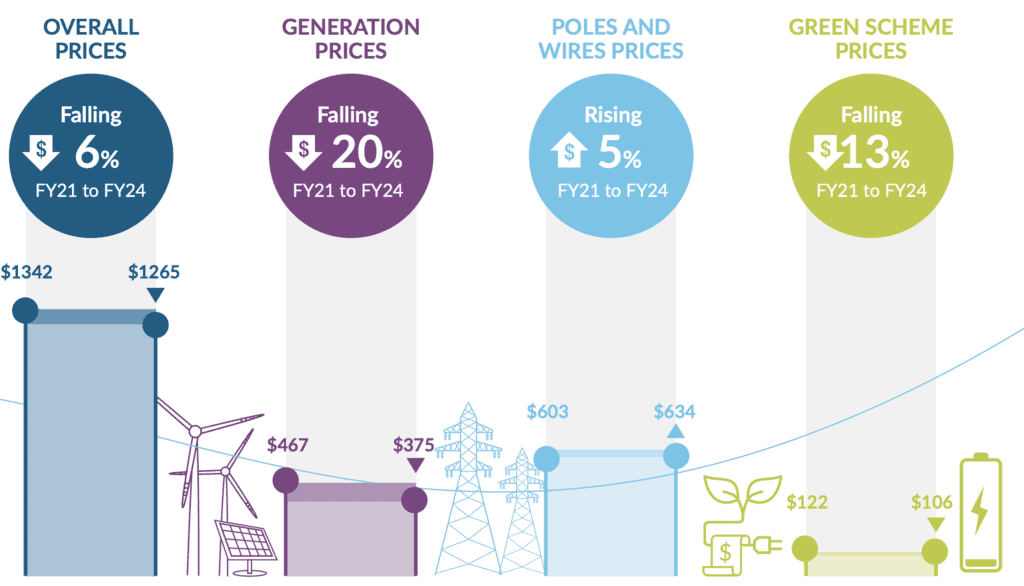 Source: Australian Energy Market Commission https://www.aemc.gov.au
SE Qld electricity price outlook
The winners will be households in the Sunshine State – at least those living in the South-Eastern corner served by Energex. SE Qld is predicted to see the largest savings in the next three years compared to the other NEM states. Expect prices to drop by $126. The AEMC's modelling reckons that the annual bill paid by a typical household in South East Queensland is likely to be $1,100 by June 2024. This 10 per cent fall in grid electricity prices will lead to the lowest power cost in a decade and less per kWh than 2010/11
By their definition – average means a household with 2-3 people, no mains gas, no solar PV, no swimming pool, controlled load, and on a market offer – with a total annual consumption level of 5,650/kWh. Bear in that up to 40% of homes already have installed solar PV in Energex.
NSW power price outlook
Even with coal station closure on the books, NSW electricity bills are expected to fall over the next three years. In the short term, power prices will likely climb by $24 (2%) by June 2022. The closure of the Liddell power station 22/23 will bump prices again by $90 (7.2%). However, if things run to the forecast, the increase in prices will be temporary.
The AEMC expect a much bigger fall of $160+ (-12.1%) by June 2024, as cheaper solar, wind, gas, and batteries compensate for lost capacity.
By 2024, NSW households could expect to pay $50 (4%) less than they do today.
Victorian electricity price outlook
It's a positive electricity bills trend for Victoria too. Household electricity bills are forecast to drop by nearly $100 over the next three years. The result will be price levels not seen for more than a decade.
Modelling by the AEMC shows that the flood of renewables and battery storage will crush the wholesale electricity prices by around 39% or $207 in Victoria by 2024. Unfortunately, Network costs will eat up a chunk of these savings.
SA power price outlook
Household electricity bills in South Australia are forecast to dip by $35 over the next three years. Stable energy prices is a positive thing. And this comes on top of the $142 decrease in electricity price for households between mid-2020 and July 2021. Large-scale renewables, rooftop solar and battery storage across the national electricity market will continue to slice wholesale prices, offsetting the inflation of Network costs.
How to find the best deals for you.
It's good news that power price trends are set to fall. To take advantage of the potential saving on offer you'll want to compare the widest range of offers. That's because prices really do vary. Some retailers are quick to pass on the lowest prices. While others retailers are not so generous – particularly to their loyal customers.
We make it easy to get it right when you compare with WATTever's comprehensive electricity comparison. You'll see a personalised cost ranking of all publicly listed electricity plans, based on your energy use to help you make serious savings. We include all retailers, tariff types, discounts, solar feed-in tariffs, input for concessions and more. For extra tips check out our essential guide to comparing electricity properly.