Does the opportunity to buy power at low rates grabs your attention? Then you'll want to know more about Powerclub, Australia's newest electricity retailer. Powerclub are opening the doors to wholesale electricity prices for households and small business.
This is the third article in a series profiling new electricity retailers set to shake up the energy industry. We'll unpack how Powerclub's innovative pricing works. Plus, how they plan to help smooth out the inevitable ups and downs of the wholesale electricity market. Then look at the type of customer that is most likely to save with wholesale pricing.
The ups and downs of wholesale energy
Retailers buy energy in the wholesale market where prices fluctuate throughout the day. Often, Retailers may be buying electricity for less than 10 cents/kWh. At other times wholesale prices can increase to as much as $14.00/kWh during extreme events that happen a few times per year.
Wholesale rates seem tantalisingly low. However, there are other costs connected with buying energy that get added along the way including;
 network charges to transmit the electricity,
 a loss factor to cover power loss over distance,
 market and environmental charges.
On top of this, Retailers add on their own margin to cover;
 operating costs,
 a buffer for wholesale price spikes in the spot market as well as costs of buying forward contracts, so they can sell electricity to customers at a stable price,
 and of course, retailer profit.
After all this, the retail electricity rate can vary from 15-60 cents/kWh. It's no wonder people question energy pricing…
Welcome to the Club
Powerclub's Founder, Stuart McPherson is determined to create a fairer system. "I wanted to change the energy industry by offering something that is completely open and honest so that Members would know, for a fact, they weren't getting ripped off."
Powerclub does away with the margin associated with maintaining a fixed price. They have also shrunk their operating costs below that of other retailers. Members get lower prices in return for accepting pricing risk. If you are OK to adjust your energy use when prices are high, then buying from the wholesale market can help reduce your energy costs over time.
For an annual fee of $39 per year for homes or $79 for small business, Powerclub provides Members with access to wholesale electricity prices. Members buy energy at cost price and are also charged 26 cents + GST a day; along with 0.76 cents + GST per kWh they use, to cover the costs of running the service.
So, why do Powerclub publish a usage rate on their website and official plan information document if they charge wholesale rates? This is Powerclub's projected average usage rate based on historical data and market forward pricing. The rate that Members are actually charged will vary with the wholesale cost for the period of energy use. To help with that Powerclub has figured out a clever way to manage fluctuating wholesale prices.
Put it in the bank
To help keep a lid on the up and downs of wholesale prices, Powerclub has introduced a buffer to smooth out bumps in Members bills. When Members join, they deposit between $40 to $80 for every 1,000kWh of electricity they estimate they'll use each year, into their 'Powerbank'. For example, a new Member household that uses 15kWh/day (5,500kW/h pa) would add $220 to kick off their Powerbank.
When wholesale prices are low, any savings on Member's energy use (below the published Powerclub usage rate) go into their Powerbank. This builds up the balance. If wholesale pricing on their energy use is above the Powerclub usage rate, then the difference is covered by Powerbank. Once the balance grows to more than $120 per 1,000 kWh, any extra will be given back as savings on the next bill. The Powerbank balance always remains the property of the Member and is refunded at its value if they choose to leave Powerclub.
It is possible to deplete the Powerbank during periods when prices are high or when extreme weather spikes prices. Running a 5kW air conditioner during a $10 kWh price surge will make for an expensive afternoon! To hang onto the savings you make when wholesale prices are low, you'll want to actively manage your energy use.
Keeping watch on prices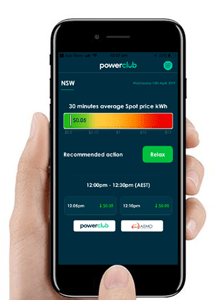 To make it easy for customers to know where prices are at any time, the Powerwatch app displays the 5 minute wholesale price in each state. Available on Apple and soon, Android, it keeps Powerclub Members in the loop with alerts that warn when prices are high. The app also offers recommendations on reducing energy use. Simple tips like turning down air conditioning, or delaying running an appliance till later when prices fall help Members save money. By making decisions to reduce electricity consumption when prices are high and equally taking advantage of cheap power when prices are low, Members can get more value.
Your meter type matters
To get the most out of Powerclub's wholesale offer, Powerclub recommends that you have a Smart Meter. This way your time of use and any associated reduced usage are recorded. A Smart Meter will help you benefit from adjusting your energy to avoid high wholesale electricity prices – and power on when prices are low. The service is also available for those on older accumulation meters. However, the rate you pay is not affected by which time of day/week you actually use power. In this case an average spot market rate is applied across your quarterly usage.
Who will wholesale pricing work best for?
There are some households and small business that are better candidates for wholesale pricing offers like Powerclub.
Powerclub will work best for those who are prepared to respond to price alerts and will actually control their energy use when needed. Whether it's turning on appliances when costs are low. Or turning things off when prices heat up. Solar owners and especially those with storage have a greater capacity to control their energy use from the grid, are candidates for Powerclub. The solar FIT paid is also linked to the wholesale market – so there will be times such as late afternoon in summer when FIT prices surge. This could provide the opportunity for battery owners to export spare energy and receive rates far above available feed-in tariffs during those hours when the market peaks.
Powerclub's low kWh rates (due to smaller margins) could also provide bigger savings to high electricity use households and businesses over time.
Powerclub asks Members to get involved with their energy use to enjoy savings. If you are a 'set and forget' customer who just wants to use energy whenever you want without thinking about it – then you won't get the most value from wholesale pricing. There are also risks during high price events where usage could come with significantly higher rates, well above $1.00 per kWh.
The Rundown
Where: Available in NSW, SE QLD, ACT & SA.
Where Next: Powerclub is set to expand to VIC shortly
What you'll need: Any meter type. Although an interval meter will give you the opportunity to manage your energy usage – powering up when prices are low and powering down when prices are high. Powerclub can arrange meter upgrades.
Who is it for: Firstly, customers who are actively engaged with their energy use and want to take actions to make savings. Better for those with solar and battery who can avoid peak market rates.
Secondly, high electricity use households and small business on an accumulation meter (due to Powerclub's low per kWh margin and the averaging of rates for accumulation meters)
What's the buzz: Get rewarded with the lowest rates by managing your energy.
You'll find Powerclub in WATTever's comparison. WATTever uses Powerclub's published average price – which is the amount that you pay each month on your bill per kWh however, an adjustment will be made to the value of your Powerbank to reflect the actual wholesale prices. Any savings will be deposited to your Powerbank or any differences due to higher price will result in a deduction to your balance.
It's important to keep in mind that your potential saving may be higher or lower than the comparison estimate due to;
 Your ability to adjust your energy use to take advantage of low prices and avoid use during high-cost periods;
 Actual future wholesale spot prices