AG Energy is a renewable energy partner. WATTever may receive a referral fee for introducing new customers.
Want ongoing energy savings for your business?
Queensland from 15.5 cents kWh*
NSW from 16.25 cents kWh*
Victoria from 16.5 cents kWh*
* Electricity prices current at 27.4.2020 and based on PPA agreement to purchase energy from AG Energy from solar on your premises. Prices may be subject to change. For further information plus terms and conditions contact AG Energy.
There's now a better way to power your business.
If you're looking to cut energy costs today and need more control of energy prices, you'll want to know more about a Solar Power Purchase Agreement (PPA) with AG Energy. AG Energy is a renewable energy retailer supplying business and agricultural enterprises lower cost electricity. Savings are powered by a solar system installed on your premises generating electricity for your business. 
From the beginning your business benefits from cheaper electricity from solar. All with zero capital outlay and no finance. Then at the end of the electricity supply term, your business becomes the owner of the solar asset – powering energy savings long into the future.
Stress free solar set up.
AG Energy expertly design a system to meet your unique energy needs and manage the installation. Plus they take care of maintenance, performance monitoring and cover the operating costs.
For a no obligation discussion to discover how much AG Energy could save your business, complete the enquiry form.
Local Sydney Veterinary Hospital goes green with AG Energy.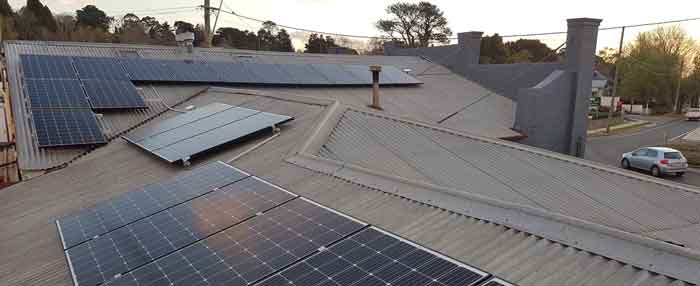 Equipment Hire company access lower cost electricity with AG Energy.
A solar power purchase agreement from AG Energy gives your business:
– Lower electricity costs from a solar PV system installed on your premises.
– No capital expense. No loans.
– Confidence about ongoing energy pricing over the term of the agreement.
– The freedom to select any retailer or plan for incidental grid power needs.
– Energy costs remain a business expense (100% deductible.Talk to your accountant).
– No system maintenance costs.
– Effortless and effective solar generation. AG Energy install a quality system then maintain and monitor performance.
– Full ownership of the solar PV asset at the end of the term.
– Enhanced business image by supporting renewable energy.