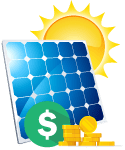 Electricity in a Box is a new retailer in 2020 offering electricity plans. Listed here are Electricity in a Box's solar feed-in tariffs for households in NSW, Queensland and Victoria.
Select your State/Territory:
Note 1: : The feed-in tariffs are sourced from the energy price fact sheets published on the Electricity in a Box web site. Some plans may have conditions relating to solar feed-in tariffs including system size and export limits. Electricity in a Box's Terms and Conditions may include other conditions not shown here.
Note 2: Residential feed-in tariffs shown exclude GST. GST on feed-in tariffs is only paid to ABN holders.
Find Basic Plan Information Documents for Electricity.